Baby Magic Protects & Nourishes Your Baby's Skin #LOVEWITHBABYMAGIC!
Disclosure: This post is sponsored by Sivan Social and The Night Helper Blog. All comments, photos, and opinions are my own.
Since Aria was a baby, one of our favorite brands to use on her skin was Baby Magic. I told my husband I wanted to make sure we had every Baby Magic product I could put my hands on because they all smelt so good! I was ecstatic when I saw the baby's room my husband had created for Aria, and yes, it had it all! Aria's baby wash, lotion, towels, pampers, wipes, motion night lights, and blankets all stacked high. 
I will always remember all the Baby Magic on her dresser. We had two main ones that were my favorite to use on Aria every day. 
The Baby Magic Gentle Hair & Body Wash, which is dermatologist recommended, tear-free and hypoallergenic. When it says, its formulated with delicate babies in mind, it really is. I had no issues using this one, and it lathered up really well.
My second favorite Baby Magic selection is their Lavender & Chamomile Calming Baby Bath. This was Aria's favorite too, for every time I used it, it calmed her down from being fussy when she took her baths. This one is also is dermatologist recommended, tear-free and hypoallergenic, and has a great effect on babies.
You know how fussy bath time can be for most babies & kids; some kids like playing in the water, and while other kids will jump right out the tub. Tackling bath time with a hesitant child can become stressful for both mommy and baby.
The key to bath time is finding a way that is suitable for both mom and baby. Make sure to prepare everything ahead of time!
Create a space that is fun and where you can reach for everything you need right at your fingers. Baby Magic lotion, Baby Magic Calming Baby Bath Wash, Floating Tub Toys, Diaper, Pajamas, Towel, and last add a little soft music. Music is always a good way to help calm a baby down during bath time! At least Aria enjoyed music every time I played it during her bath time.
You want to make this time as stressful as possible. One thing I found about the Baby Magic Calming Baby Bath Wash is it smells so good, and I noticed Aria settled down once she was inside the tub.
Once her bath time was over, I gently shared some Baby Magic lotion on her skin and 'WOW" she smelt so good, and her skin was hydrated and so soft to touch! The Baby Magic brand cleaned her skin and locked in moisture; not all baby lotions are effective that way.
She smelt just like a newborn baby again, and the scent lasted very long. You know that smell that every newborn baby has that leaves you wanting to kiss them all day long!
Did you know Baby Magic launched a new line of products to include wholesome ingredients? No more sulfates, mineral oil, dyes, parabens, phthalates, talc, and lanolin!
 Scents like:
Baby Magic 2 In 1 Baby Wash & Shampoo, Calendula & Coconut, 30 Oz
Baby Magic Baby Lotion With Original Baby Scent, Camellia Oil & Marshmallow Root 
Baby Magic No-Rinse Wash, Original Baby Scent, 7 Ounces, and many others.
You can also grab a Baby Magic Oh Baby! Baby Essentials Gift Set for that new mommy & baby!
Perfect for gifting at baby showers or for your little one.
Includes one each:
9oz Gentle Hair & Body Wash,
9oz Calming Baby Bath,
9oz Gentle Baby Lotion,
80ct Unscented Wipes and Bonus Bunny Lovie.
Tear-free, free of parabens, phthalates, sulfates, and dyes.
This will make a great gift for that new mom and baby. The most important thing to remember about Baby Magic products is they all contain ingredients that are soft and gentle on the baby's skin. Marshmallow root, Aloe, Camellia oil, Shea butter, Lavender, and more.
Don't wait; visit Amazon.com today to order your BABY MAGIC products. I'm sure your little one will enjoy the smell and softness too!!
But Waite, we have some good news for you. Save $1.00 on any ONE (1) Baby Magic Product, Exp 12/31/20Prints Per User 2
Plus, Savings.com is giving away 10 $100 Visa e-gift cards on behalf of Baby Magic!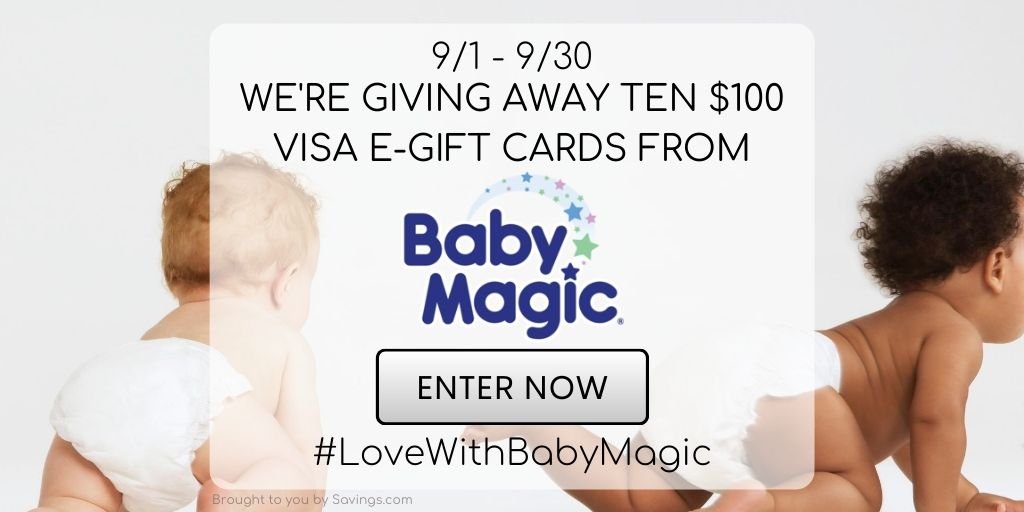 The giveaway starts on Tuesday, September 1st at 12:00 AM PT and ends on Wednesday, September 30th at 11:59 PM PT
Users enter the giveaway by heading to the Grocery page on Savings.com and submitting their email address on the form on the page.
The winners will be chosen through a lottery drawing and notified on Thursday, October 1st via the email address they used to enter.
See complete Official Rules for entry instructions, full prize descriptions, restrictions, and other important details.
Well, GOOD LUCK and remember Baby Magic!!
Disclosure: This post is sponsored by Sivan Social and The Night Helper Blog. All comments, photos, and opinions are my own.