Baby-BeeHaven Cush 'n Go review/giveaway!!
I have another good baby/toddler review from a wonderful company called: Baby–BeeHaven. You know having a baby is the most wonderful Blessing in the world and  seeking to find that right product is always on a parents agenda.
As parents we look to find products that makes our life easier and keeps our little ones safe and secure. Baby-BeeHaven, (love that name) has products just for those purposes.
The company Baby–BeeHaven was created by Heather Prattas a working mom with two beautiful girls. Heather stated she never attended school for business or marketing. Creating the Baby–Beehaven product line has been an incredible adventure for her.. I sincerely hope you will enjoy following Baby-Beehaven as we develop products that make our lives as parents easier and our babies happier.
I was fortunate enough to be given the opportunity to receive the pink Cush 'n Go!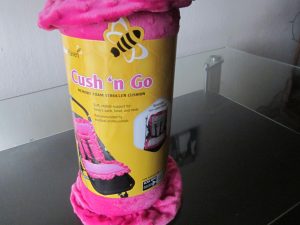 This is a great product to insert into your child's stroller. Its adorable and the bright pink is every little girls color.
This awesome product has  memory foam material, this in return helps to keep your little one comfortable while sitting in there stroller.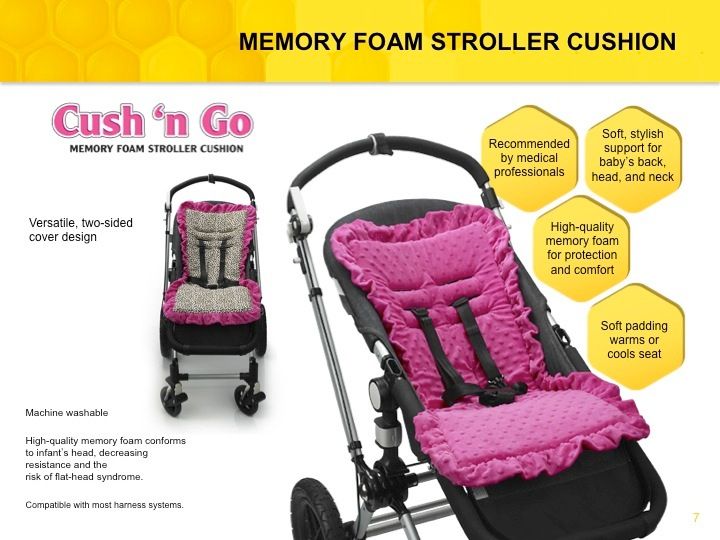 The Cush 'n Go is very well designed and can really meet the needs of assisting your child's posture. It is so important to make sure your child's back is aligned correctly and I believe this memory foam Cush 'n Go will assist your children in that area very well.
I can't wait to share this product with my niece who is having a baby within the next few weeks. She is always on the lookout for finding not only great products but products that serve a good purpose. Don't worry Cush 'n Go has one for boys too
So don't hesitate, visit Baby–BeeHaven today and get a Cush 'nGo for your child. There is nothing like finding a product that supports your baby's neck, head and back. Plus its recommended by medical professionals.
You can learn more about Cush 'n Go here, while your there check out their other accessories called See 'n Store, Swingin' Smart & Dream Feeder. You can connect with them on many social sites Facebook
Enter to win your Cush 'n Go….good luck!
Disclaimer Statement
I was not compensated for this post, however I did receive a product. The opinions expressed in this post are 100% of my own and any product claim, statistic, quote or other representation about a product or service should be verified by the above mentioned store, PR,or product designer.