2017 Holiday Gift Guide Featuring: Bath Bombs Gift Set By #Kithbee
Well, it's that time again, Holiday Gift Guide Ideas! The Night Helper Blog is getting ready to share some awesome Holiday Gift Ideas from now until Dec 18th! We will share products in just about every category plus we will list links where you can grab any of these product for your Holiday Gift List. So sit back and enjoy!!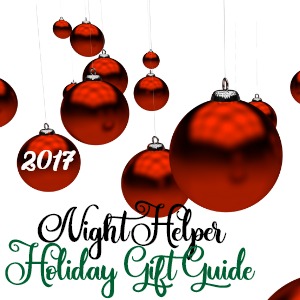 Do you love Bath Bombs? If you do, you may want to check out this set of Bath Bombs from the company Kithbee!
Every woman loves to be pampered , I know I do! No matter if you're getting your nails done, hair done, or soaking in the bath, it always feels good to be pampered.
Well, now you can pamper yourself at home with this Bath Bombs Gift Set by Kithbee.  The Kithbee Bath Bombs Gift Set will arrive to you in their signature black box wrapped with a beautiful pink satin ribbon.
In this set you'll see six handmade distinguish scented individually wrapped bath bombs!
Each scented bath bomb is wrapped and ready for use. Scents available to you will be Vanilla, Chocolate, Coffee, Peony, Rose or Strawberry. All of their Bath Bombs are unique therapeutic bath with health benefits. This gift set provides a luxury spa experience right at home, without spending a lot of money!
Every bath bomb is natural and handmade. Bubble bath bombs are mixed, pressed, molded, rolled and shaped by hand with all natural ingredients. Kithbee Bath Bombs are known for leaving your skin soft and smooth, that's because when created they use only skin-loving organic vegan ingredients, such as cocoa butter and shea butter.
Do you know that Kithbee Bath Bombs have many great benefits for your skin:
Aromatherapy is one added benefit of using Kithbee Bath Bombs, and it's very evident with this set.

Oils 

provide

healing

from

congestion problems

,

headaches

,

stress and anxiety

, and many other difficulties that many people struggle with on a

daily basis

.
Because bath bombs are also excellent for

skin health

and 

nourishment

, they are both

mentally

and

physically beneficial

.
I would have to agree with all the benefits above, I can truly say whenever I enjoy a bath bomb in my bath, it always relaxes me and helps to alleviate any stress I may be experiencing that day.
The Kithbee Bath Bomb set will make a great holiday gift for moms, your wives, daughters, friends, teachers, and family members. Just simply drop your Kithbee Bath Bomb in your bath water, step in, sit back and relax, and enjoy the wonderful scent from your bath bomb.
The great thing about these bombs I found to be interesting is not only do they release slowly but, you can use these bombs more than once. You see, you can remove your bath bomb half way through (before it completely dissolves). Once it is out of the water, it will stop fizzing, just package your remaining bath bomb away and set aside for another day! The last bath bomb I used wouldn't allow me to remove, it actually dissolved all within the water so that's pretty interesting to be able to remove your bomb half way and store for later! If you'd like to give some other bath bombs a try, Amor is also a great brand I can recommend.
Well, what do you think? Again, I think this bath bomb set will make a great Holiday Gift! Now what If I told you Kithbee Bath Bombs has agreed to giveaway a set for you to try. Giveaway coming soon!
You can check out the Kithbee Bath Bombs on Amazon. You can also keep up with Kithbee Bath Bombs via Facebook 
Howdy everyone, I just wanted to inform you that I was not compensated for this post. However, I did receive a product from the company below and the opinions expressed in this post are 100% my own. I am disclosing this in accordance with the FTC guidelines.